The month of May has been one of both new beginnings and also of endings. It feels as if the early chapters of my life have come to a close and a new chapter is about to begin. This feeling is both on and off the bike.
On the bike it feels like I am no longer trying to make up lost ground, it most defiantly feels like I have broken new ground with my performance. Off the bike there is a similar feeling of change.
I finished my A levels and my time at 6th form on Wednesday. I have left with my head held high proud of what I have managed to achieve. It seems like I may actually have gained some A levels from my 2 years spent at 6th form. No matter the grade I will be pleased with them because I got through all of them, I tried as hard as I could in them and at the end of the day, I can only do my best. I have no idea how successful I have been in them however I beleve that I have achieved something because school have not had any meeting s with me about doing the year again and when I went back at the end of march, they said that they would tell me if I was getting nothing and would need to do the year again. So that chapter of my life is done, and I will look back on my time at school with fondness. Equally I am glade that it is finished, and I never have to go back. As a result of finishing school as well as the feelings on the bike I feel like I have re-discovered myself I feel much happier in myself, far more confident and as a result of this I think my brain is working much better now that it is not full of anxiety and sadness. The trigger for this I beleve to be the feeling of accomplishment of finishing school as well as my performance in Chitterne Road Race last Sunday.
Chitterne Road Race
It was my first road race so coming into it I was a little nervous about how it would all work. On arrival we drove a lap of the course to get a better idea of how the road was. I had been around the course on google and looked at it on strava lots, so I had a good idea of what to expect but driving round was very useful. We got into the carpark, I put my numbers in their pockets then got changed into kit. At this point I was still nervous because of the unknown. The team had a quick chat in the carpark, which was all fine, we had an in-depth chat on zoom Friday evening so there wasn't a huge amount to be said. We mainly just talked about what kit to wear. After that I went back to the car then found a solid piece of ground to put my rollers on. I put my headphones in, helmet and sunglasses on and started to warm up. The same standard BC warm up that I have used since I started racing. It is second nature and there is a reassuring familiarity with it. No matter the place or event the warmup is always the same. I have my Wurtzite (named after wurtzite boron nitride which is the hardest material known to man) playlist on turned up to the max. Guitar, drums and screaming reverberating around inside my head. Everything else in the world fades away and the only thing left is the bike race.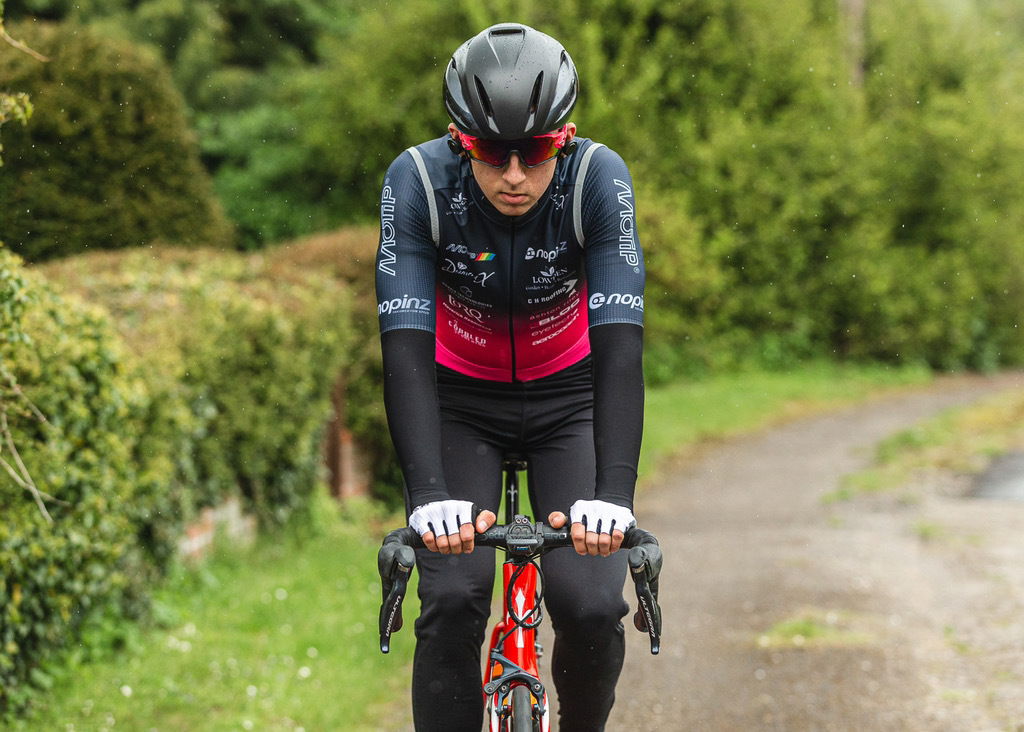 After my warmup I got gear checked and then rode up and down the road because it was raining too much to ride rollers. All anxiety and worries have been left behind. Its just a bike race and I am good at racing my bike. I am full of confidence and self-belief as I line up in the pen. A very short briefing and then the long-neutralised section starts. I do a good job of maintaining my position through the neutralised section. Always in the top 15ish wheels.
The flag drops and Henry (my coach) attacks. Nobody follows but the pace of the group gradually increases due to everybody fighting for position going into the really rough technical section of the course. Due to this we catch Henry just after the finish line and never see him again. Up the climb the first time and the group strings out. Over the top into the super fast exposed crosswind section. I was positioned very nicely in 6-8th wheel. I made the front split bridging over with Tom Portsmouth. On the 3rd time through the crosswind section Yanto Barker attacked. The guy Infront of me couldn't close it and a gap opened up, I tired to close but couldn't pedal fast enough so swung out in the hope of dropping onto a wheel and making it across. However, the guy behind me attacked past and I couldn't match the speed, so I got dropped from the front split.
This was hugely disappointing to get dropped from partly bad luck but made unrecoverable by junior gears. Especially because I did not really feel like I was trying that hard to be in the front group. Especially up the climbs I felt like it was pretty easy, and I could see others really suffering around me. I have taken lots of confidence from this and I feel like I am at the level that I can win senior road races. Back in the group I took the liberties that come with getting caught and sat on the back for a few mins. After that I spent the rest of the race rolling turns with the canyon guys.
Coming into the finale of the race we could see the tail end of the breakaway. I launched my sprint with 220ish to go. This was much earlier than I wanted too but I knew I would have to go otherwise I wouldn't catch any of the breakaway guys. I caught and passed a couple of them and I got rolled by one of the canyon guys and one of the wales racing academy guys. I should have started my sprint 20-50 metres later and then maybe I would have finished higher up. But that's bike racing, always things to learn from and improve upon for next time. I am very pleased with 10th and I have taken a lot of confidence from my performance.
After the race I started to get very very cold. My clothing while excellent for the conditions when I was working hard now that I was no longer producing lots of body heat it was sucking all the heat out of me and by the time I got back to race HQ I was totally frozen. It took the rest of the day to warm up. Thank you to everyone who helped me warm up afterwards.
I loved every single pedal stroke of the race. It was amazing. Thank you to everyone who made it possible. I can't wait for the next one.
The other race I did in May was a 10-mile TT on the H10/22 course. I rode a 20:23 which got me 1st junior. I was pleased overall but I knew there was more time in the legs. On Wednesday of this week, I went and did a TT on the H10/17R course. I had done a local tt on it a few weeks before and having done some more work on my position I thought I would go see if it had made any difference. I rode a 19:44 which was 30s faster than the time I did in the phoenix tt a few weeks previous in fairly similar conditions. I was very pleased as it was the first sub 20tt I have ever ridden. Especially as I didn't feel I had ridden as hard as I possibly could. I am really looking forward to the time trials I have coming up.
The month of June is looking jam packed with racing. With 6 races in total. I am doing a 10tt at Hillingdon next Wednesday followed by PNE road race on Saturday. Hopefully I will be able to get to castle coombe for a tt there. Then it is Junior Tour of Yorkshire followed by Junior Cicle Classic with the national circuit series in Otley to top of my racing for the month.
I am really looking forward to getting stuck into racing especially the 2 Junior nationals.
My playlist that I listen to when warming up and training. https://open.spotify.com/playlist/5h3drDPrMWTYP5Yhx1CnIf?si=ad78b870f8f2445e